Houston and Dallas, who meet in Sundays Texas Derby, are two of MLS best clubs this season from two of its biggest cities. So why arent they more popular?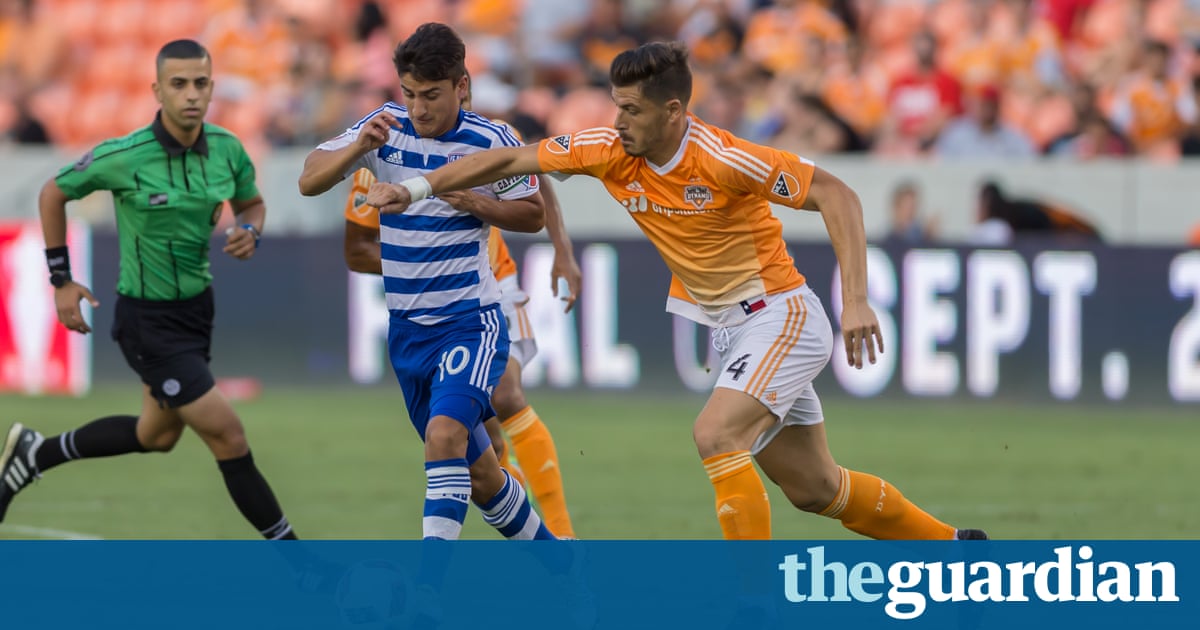 Whoever coined the phrase demographics are not destiny could have been referring to Major League Soccer in Texas just as easily as talking about politics.
Simple population figures would imply that two of the leagues biggest clubs are facing off in the Texas Derby on Sunday, with the right to fire a cannon awarded to the team with the seasons best head-to-head record – provided they have secured the appropriate paperwork from safety-conscious city authorities, that is.
More than seven million people live in the Dallas metropolitan area, the fourth-largest in the nation. Houston is fifth, with nearly seven million. Yet FC Dallas are one of the least-watched teams in MLS and Houstons crowds are on the slide.
Going into the weekend, the rivals sat second and third in the Western Conference standings, with the Dynamo owning the best home record in MLS: played seven, won six, drawn one.
Under their new head coach, Wilmer Cabrera, Houston offer a direct, fast-paced style and are liable to score and concede often. The Mexican forward and designated player, Erick Cubo Torres, has nine goals, making him the leagues second-highest scorer so far this season.
The average crowd, though, is 17,653: a modest figure, especially given the MLS habit of declaring tickets distributed rather than actual attendance.
After a boost when they moved from a crumbling university football venue to a smart downtown soccer-specific home in 2012, Houstons average crowd is roughly back to where it was before they left, while other teams have overtaken them. In their last season at Robertson Stadium they ranked ninth in attendance; in their first season at BBVA Compass Stadium, fourth; last season, fourteenth; currently, fifteenth out of 22 teams.
The capacity of Dallas Toyota Stadium has been limited to about 16,000 since last year because of construction, but in 2015 the side only drew an average of 15,981 fans third-worst in MLS.
And that year, just as in 2016, Dallas had the best regular-season record in MLS. So what is going on?
Like the Chicago Fire, who beat them 2-1 on Thursday in front of 12,584, Oscar Parejas side are not helped by the location of their stadium. It is in the distant suburb of Frisco, 29 miles from downtown and a journey that can take well over an hour when traffic is heavy. Houstons home appears ideally located to entice supporters from all corners of the city, but the Dynamo have not reached the playoffs since 2013.
Houston is very much a fairweather fan mentality when it comes to all of [the citys] local sports teams, said James Hromadka of the Texian Army fan group. He has attended every Dynamo road game against Dallas and will be at Toyota Stadium on Sunday. When you have a winning team, people show up.
Manny Gutierrez, one of the leaders of another group, El Battalon, said that there was a sense that ownership was resting on its laurels in previous years and a discouraging lack of effort on the field, though matters are improving. (A representative of one of Dallas main supporters groups declined to comment for this article; another group did not respond to a comment request.)
Still, much smaller places Salt Lake City, Portland, Kansas City and Vancouver, to name a handful attract as many or more MLS fans, even though Texass status as a major sporting hub is not in dispute and crowds for international and overseas club fixtures are often impressive, with Manchester United set to face Manchester City in Houston on 20 July, two days before north Texas hosts a Concacaf Gold Cup semi-final.
Not to take anything away from Portland but aside from the [NBAs] Blazers theres really not a whole lot else. Theres a team thats got decades of history that precede MLS, Gutierrez said.
Houston gets absolutely saturated with Latin American clubs that come here. These are the teams of our fathers, the teams of the countries that many of the people that live in this city, where they come from. And theres this loyalty to that brand, loyalty to the club that they grew up with. Were surrounded by a lot of clubs and fans that look at us as outsiders, the new guy, kind of thrown into a market where there was a lot of established fan groups.
The Dynamo started play in 2006 after then-owners AEG relocated the San Jose Earthquakes to Houston and won MLS Cup in their first two seasons. We came at a very weird transitionary period in the league [four years] after contracting a couple of teams [in Florida], moving a team that had a lot of history in its market but couldnt seem to keep that team around, Gutierrez said.
Dallas are an original MLS franchise, kicking off in 1996 as the Dallas Burn, but have never lifted the MLS Cup and reached the final only once. Its not an easy market, MLS commissioner Don Garber told the Dallas Morning News last year.
Its less important to me where they sit in relation to other clubs. Were able to look at their metrics and see that theyre moving in the right direction. All indicators are moving in the right direction, although other teams in the league are moving a bit faster. But over time they will start winning some championships so that they can have a legacy of success on the field that hopefully can translate into success off the field.
Houston lost 4-1 to Atlanta United last week in front of nearly 45,000 fans in Georgia z- and the newcomers have not even moved into their new stadium yet. As Steve Davis wrote in FourFourTwo in February, the newer teams are generally enjoying better crowds than the more venerable franchises as they join a league with a growing buzz that has learnt from mistakes it made in its early years.
They enter from a higher floor, usually with bigger and better stadiums, with a cachet and media attention that was denied to older clubs that with Sporting Kansas City a notable exception have struggled to enhance or transform initial impressions.
The teams that are coming into the league today and over the last couple of years have a distinct advantage over some of the teams that have been in existence from day one simply because soccer has grown so much in popularity over the last decade that theyre riding this wave of popularity for the game, and coming in to the league with a very clean, fresh image for the sport and for the league, said Chris Canetti, the Dynamo president.
As soccer continues to grow in this country and continues to evolve, these newer expansion teams in my opinion have some advantages in their opportunity to succeed right off the bat.
Canetti said that local television viewing figures for Dynamo games are up 200% now that they are on a more accessible channel. Growth is not always fully definable by raw numbers Hromadka also measures the Dynamos progress in the number of orange bumper stickers he spots on cars around town, and how often he steps into a bar thats showing soccer.
In the beginning, he said, People were like, Oh, we have a team, I didnt know that. So you had that for the first few years. Now, when I go to an Astros [MLB] game I actually see people wearing Dynamo jerseys and hats It is part of the citys consciousness.
Read more: https://www.theguardian.com/football/2017/may/26/mls-texas-derby-houston-dynamo-fc-dallas