Video game-makers usually distance products from politics. Ubisoft might help change that by rooting its new title in the fear and loathing of Trumps US
There is an all-too familiar response when video game developers are asked if their latest project has any real-world meaning: hey, were just making a game, were not making a statement. Its a media-trained kneejerk defence against potential controversy, a line dragged out time and time again when a producer or creative director is asked about seemingly clear parallels with genuine wars, events or issues.
Last year, for example, video game site Killscreen spoke to the makers of The Division, a game about an apocalyptic terrorist attack on New York City. When asked if 9/11 had in any way inspired the setting and narrative, associate creative director Julian Gerighty seemed aghast at the comparison and at the connection between the game and an actual incident. At the end of the day, its a video game, he said. Its an entertainment product Theres no particularly political message with it. This is a game in which soldiers are given the authority to shoot civilian looters in order to restore governmental control over a stricken city and theres no political message?
With this history of evasion in mind, Ubisofts recent announcement of Far Cry 5, the latest title in the publishers successful series of open-world action games, gives some cause for hope. Set in a contemporary depiction of rural Montana, the game deals with a violent religious militia group named the Project at Edens Gate, which is terrorising the inhabitants of the fictitious Hope County into joining its movement. Their aim, it seems, is to bring about some sort of national apocalyptic uprising and its the players role, as a local police officer, to do something about it.
From the start, its an interesting setup. Mainstream video games especially violent ones have tended to avoid recognisable contemporary settings, preferring instead, the (to some extent) politically nullifying contexts of fantasy, science fiction or history. Activision set its Call of Duty: Modern Warfare series during an indistinct near-future to avoid correlations with real-life US foreign policy, while Grand Theft Auto has always neatly divorced itself from the reality of depicting armed bloody chaos on US streets by using fictitious settings only loosely analogous to real-life states and cities. Far Cry 5, however, is unapologetically using the modern United States as its backdrop.
And while this brilliant series has always used recognisable locations for its chaotic adventures, those have, until now, been far flung and exoticised: an unnamed central African state, a Pacific island, a Himalayan town. In this way, the makers have sought to authenticate each setting while simultaneously divorcing player-led actions and troubling narratives from any immediate political context. Even though the last three titles toyed, however unknowingly, with disturbing colonialist themes and ideas, its always been set far enough away to let most gamers relax guiltlessly into their killing sprees. Far Cry has, in some ways, treated its western audiences like the readers of 19th century explorer adventure yarns, distancing them from the violence they relish by othering the antagonists as dangerous natives in the name of thrilling entertainment.
Far Cry 5, though, is being discussed by its makers as a direct response to world events. I began to get the sense that America was ready for a Far Cry, said producer Dan Hay during a recent press event. All I know is that, in the last year and a half I got that feeling back like were riding a wave and something is going to happen. Like theres going to be a calamity and going to be a collapse.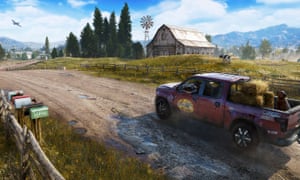 Read more: https://www.theguardian.com/technology/2017/jun/02/far-cry-5-games-civil-unrest-trump-us-reality-ubisoft