Olympic freeskier Gus Kenworthy and singer-actress Hayley Kiyoko are just two of the celebrities who are celebrating themselves by stripping down for an inclusive Pride month effort.
Online underwear retailer MeUndies unveiled their new rainbow polka dot designs May 23 with a colorful spread featuring Kenworthy and Kiyoko for its Celebrate Yourselfcampaign. But the photo series which also features musician Big Freedia and YouTube personalities B. Scott, Stevie Boebi and Ally Hills isnt just an excuse to spot the stars in their skivvies. For every pair of underwear sold, MeUndies will donate $1 to the Los Angeles LGBT Center to help expand its youth center.
Los Angeles LGBT Centers Chief Marketing Officer Jim Key told HuffPost that underwear was a very appropriate choice for their new campaign, which was launched to coincide with Pride month in June.We lift, support and comfort people of all types and ages, he quipped, noting that much like MeUndies polka dot designs, were bold and courageous.
Given the current political climate, Key said, funding for homeless LGBTQ youth services is more at risk than ever, which is one of the many reasons hes grateful for the MeUndies campaign. Its a particularly pertinent issue in Los Angeles, where about 40 percent of the homeless youth population in the city identify as LGBTQ, he said.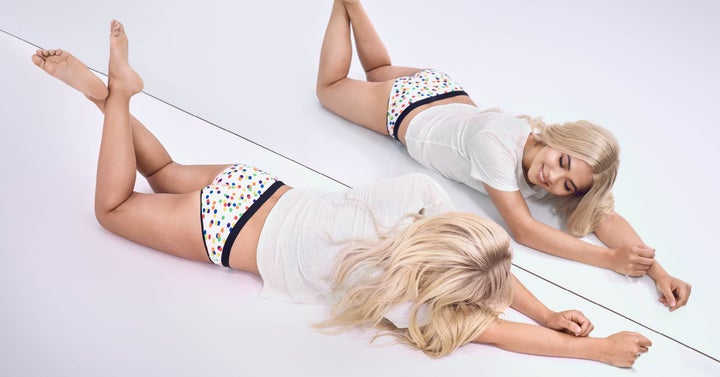 Kiyoko, who made waves in 2015 with her queer girl love anthem, Girls Like Girls, said the campaign really spoke to her as an artist who has never shied away from exploring sexuality in her work. In the artist community, we do have a responsibility to use our platform to spread messages of hope and acceptance, she said. Whether or not someone decides to do that is their choice, but Ive always used my art as a way to bring people together if you could call that political.
Kenworthy echoed those sentiments.For him, the campaign wasnt so much of a political gesture as it was one more way for him to express that I am proud of who I am.
Its about trying to just embrace the things that make me different and the things that make me unique, and not allow myself to be dictated by other peoples expectations,the Olympian, who came out as gay in a 2015 ESPN Magazine cover story, told HuffPost. The best ways to celebrate yourself, he explained,werent necessarily grand gestures. I think on the most stripped back, grassroots level, the way that I celebrate myself is just being proud of who I am walking down the street holding my boyfriends hand, living my life unapologetically.
Check out more photos from the MeUndies Celebrate Yourself campaign for the Los Angeles LGBT Center below.
Read more: http://www.huffingtonpost.com/entry/gus-kenworthy-los-angeles-underwear-campaign_us_59245a4ce4b094cdba57f78a