The Syrian crisis has claimed nearly 500,000 lives and forced more than 11 million people to flee their homes. Damascus is committing war crimes against its own people with apparent impunity, and is aided by aggressive military support from Russia a permanent member of the United Nations Security Council. The international community is watching in horror while hundreds of thousands of Syrians are trapped under siege in Aleppo, as ceasefires fail and the carnage intensifies.
The sheer immensity of a global tragedy like the one unfolding in Syria may leave you feeling helpless. But you can get involved. Here are ways to support the innocent people suffering through what the U.N. has called the biggest humanitarian crisis of our time.
Educate Yourself
Step one is simple, but crucial: Educate yourself and stay informed.
If you're wondering "What Is Aleppo?" you've got a lot to learn but don't panic. As violence and political tensions have escalated in Syria, international reporting on the crisis has surged. News outlets like Syria Deeply provide focused, in-depth reports and analysis on Aleppo and the war. Sign up for weekly updates here.
If the maelstrom of media coverage seems overwhelming, there are other ways to keep up to date. Social media is an easy and effective tool to distribute and consume information. You can subscribe to content from online influencers like Syrian journalist Rami Jarrah, one of the most prominent voices coming out of the embattled country since the conflict erupted in 2011. Jarrah, also known under the pseudonym Alexander Page, gives an unfiltered, impassioned account of the daily atrocities and political developments occurring in Syria. Follow him here and here for quick, shareable updates.
If you'd like to learn more about the plight of refugees displaced by violence, Amnesty International is offering a free, three-week online course in English, French and Spanish called "Human Rights: The Rights of Refugees." The program explains how to defend and protect refugee rights, the role of governments in this process, and how to confront prejudicial behavior toward refugees and asylum seekers. Register for the next session here.
Donate, Volunteer
A great number of humanitarian organizations are doing diligent work to help crisis-affected Syrians, and they need your support. Donating money can go a long way, but it's tough to know the best place for your aid. Charity Navigator is a nonprofit website that evaluates charitable groups based on accountability, transparency and financial performance. It offers a curated list of top-rated charities involved in the Syrian crisis. Check it out here.
The HuffPost UK compiled a separate list of charities operating in Syria to offer shelter, food and support to those displaced by the violence. Organizations like International Medical Corps also work with countries bordering Syria, including Turkey, Lebanon and Jordan, which have accepted more than 4.4 million Syrian refugees collectively. International Medical Corps opened a center north of Aleppo in Gaziantep that offers specialized services to Syrian refugees struggling with emotional trauma. Donate here.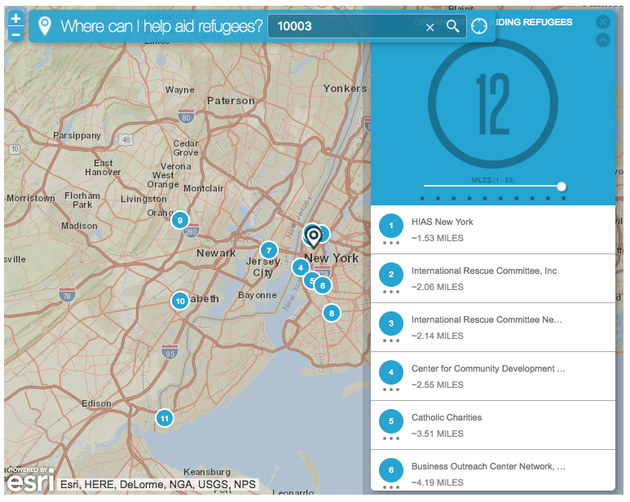 In the United States, where more than 12,000 Syrians refugees have been resettled, the government set up a digital map tool that shows you how to help refugees in your area. By entering your address, it connects you with organizations in your proximity that have volunteer positions and opportunities to get involved. Find out which groups in your region need assistance here.
Plans are underway in the U.S. to launch a private refugee sponsorship program in 2017, which you can learn more about here. It's unclear where the incoming administration will stand on this issue, as President-elect Donald Trump has threatened to deport Syrian refugees. In a few countries, including Canada, it's already possible to privately sponsor refugees. Get involved here.
If you speak Arabic, you can help Canadian newcomers from Syria through their transition period by volunteering translation services via organizations like Syrian Active Volunteers. Sign up here. If you're a law school student or professional, you can volunteer with the International Refugee Assistance Project to offer legal support to refugees. Apply to help here.
Refugees Welcome is a home- and room-sharing service similar to Airbnb that was established specifically for refugees, and offers to help secure financial support. Register your home here. To simply share a message of hope, write a letter here. CARE will select and translate some of the letter submissions to read to Syrian refugee children.
You can support some of the mentioned charities by donating via the CrowdRise widget below.
If You're Angry And You Know It, Show It
"Showing solidarity with Syrians and showing outrage for what is happening is really important," Syrian medical activist Elise Baker told The WorldPost. "I feel that one of the things that has been missing in this conflict is significant outrage from American citizens or citizens from outside of Syria demanding action and saying this is unacceptable."
Baker, a research coordinator with Physicians For Human Rights, suggested several ways to express this anger productively. "You could write letters to the editor of your local papers or news outlets, go to vigils or hold protests at a Russian embassy or at your own government calling for increased action to protect Syrian civilians."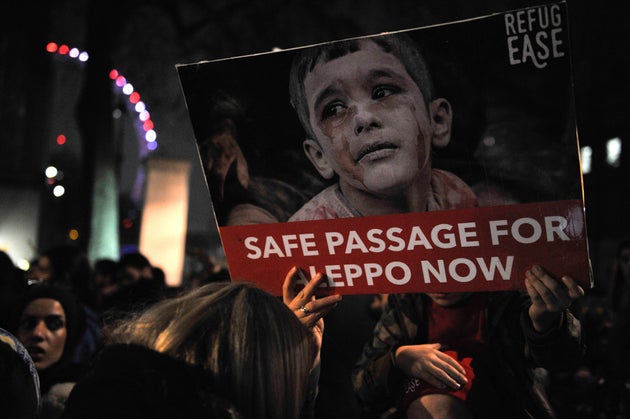 There are many ways of pressuring elected officials to address issues stemming from the crisis. In the United Kingdom, for example, an online petition advocating for aid to be dropped in Syria has garnered more than 90,000 of the 100,000 signatures required for British Parliament to consider the proposal for debate. Add your name here.
To protest Moscow's violent, internationally condemned involvement in the conflict, contact your nation's Russian embassy. Space.org has compiled an organized list of phone numbers and emails for Russian embassies around the world. Find your country's information here. If you need help figuring out what to say, here's a timely, pre-written letter. With the click of a button, Space.org also allows you to send a strongly worded tweet demanding change directly to relevant political leaders around the globe. Do so here.
Support The Caesar Bill
Syrian President Bashar Assad has directed relentless airstrikes and barrel bombs that are slaughtering innocents and destroying massive swathes of the country. The deadly bombardments have decimated homes and left hospitals and schools awash with Syrian blood. Assad has also been accused of using chemical weapons against civilians. His government and its Russian allies have played a major role in transforming Aleppo from a vibrant, historic community into a "living hell" and place of "unbearable suffering."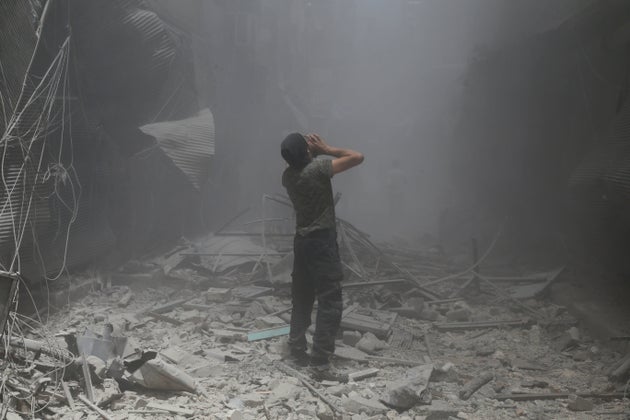 The Caesar Bill, or "Caesar Syria Civilian Protection Act," is legislation in the U.S. Congress that offers a rare and promising opportunity to hold the Assad regime accountable for its atrocities. It was aptly named for Caesar, a Syrian military defector who smuggled more than 50,000 heartbreaking photos out of the country to share the terrors Assad has inflicted on Syria with the world.
As described by Congress, the Caesar Bill seeks to "halt the wholesale slaughter of the Syrian people, encourage a negotiated political settlement, and hold Syrian human rights abusers accountable for their crimes." If successful, it would enable the U.S. to impose sanctions on Assad-allied forces, facilitate the creation of no-fly zones and mandate increased transparency regarding the government's involvement in the conflict. Read more about it here.
The bipartisan legislation, which has passed the House but not the Senate, faces possible dormancy ahead of Trump's presidency. Trump has vowed to cease all immigration from Syria and hasn't given a detailed plan for holding Damascus or Moscow accountable for repeated crimes against humanity in Syria.
"We could be calling up our senators and saying 'I think this bill should go to Senate and be voted on,'" said Baker, the Syrian medical activist. "I think there's a lot of fear in the U.S. of going to war in the Middle East, and that's understandable, but we also can't let that turn into acceptance of war crimes and crimes against humanity."
Talk About It
Talk about what's happening. And keep talking. If you read a poignant article about the conflict, share it on Facebook and Twitter. So-called slacktivism may not be a solution, but imagine if issues like Syria's humanitarian crisis appeared in your newsfeed as frequently as memes or selfies.
"The smallest action, which still is helpful, is just having conversations with friends about what is happening in Syria," said Baker. "I don't really think that the general public is aware of Syria. Let's start getting conversations about Syria happening more often and get increased attention on these atrocities that are happening there regularly."
These kinds of efforts staying informed, donating time and money, demanding change, advocating passage of the Caesar Bill, and keeping the dialogue alive "are not going to end the war," Baker noted. "But they will help keep people alive during the war."
Read more: http://www.huffingtonpost.com/entry/help-syria-aleppo_us_585160b5e4b0e411bfd498c2