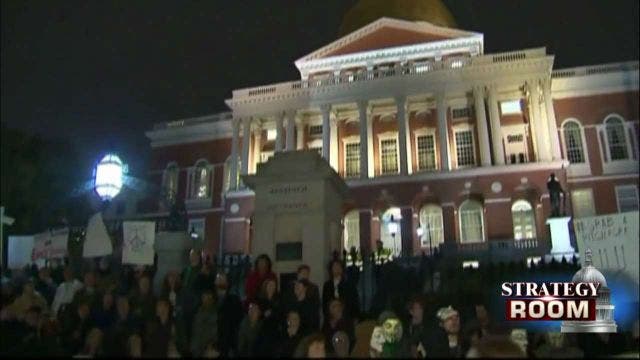 Food delivery service Grubhub is leaving a bad taste in Donald Trump supporters' mouths.
The company is already feeling the financial repercussions of an internal email CEO Matt Maloney sent to employees Wednesday, with company shares falling 5 percent in the last 24 hours.
In the Apple iTunes store, the app now has new one-star reviews knocking Maloney's comments.
"I just heard about your CEO's leaked memo regarding President-Elect Trump. While his opinion is his prerogative, to assert that his employees should resign if they supported Trump is mean and manipulative," posted one user in a review titled "I'll never use GrubHub [sic] again."
In the email, first obtained by FoxNews.com, Maloney suggested that supporters of President-elect Donald Trump should resign, and the company would not tolerate hateful attitudes in the workplace.
FARM TO ROBOT TO TABLE: INSIDE THE FOOD INDUSTRY'S HIGH-TECH FUTURE
On Thursday, Grubhub tweeted a response to the email with a link to a follow-up statement from Maloney indicating that his original comments had been misconstrued.
I want to clarify that I did not ask for anyone to resign if they voted for Trump. I would never make such a demand. To the contrary, the message of the email is that we do not tolerate discriminatory activity or hateful commentary in the workplace, and that we will stand up for our employees.
But many Grubhub users are furious with Maloneys original statement against Trump and say theyre willing to for go the convenience of the delivery service–for good. Dozens have taken to social media using the hashtag #boycottgrubhub and have vowed never to use the platform again.
.@M3aloney @FoxNews No need to backtrack, no Trump supporter will ever give a dime to your disgraceful company ever again #boycottgrubhub

Trump 45 (@PoliticalTropes) November 10, 2016
No more @Grubhub for tens of millions of people. Take your censorship and closed minds far from here. #FreeSpeech #MAGA #BoycottGrubHub https://t.co/V7cqFRF6FM

outrageontheregular (@outrageonthereg) November 10, 2016
Hey @Grubhub i just deleted your app. Your CEO is brilliant. Lol you are going out of business very soon. #boycottgrubhub

Deplorable J (@pullheadfromass) November 10, 2016
Congrats, GrubHub. You just alienated all of these people! #BoycottGrubhub pic.twitter.com/NvMtBIRWPQ

Becky (@MissPatriarch) November 11, 2016
Mahoney leaves a bad taste. Grubhub CEO bullies conservative employees. Canceling my account. Despicable. @Grubhub #boycottgrubhub

E. Tage Larsen (@etagelarsen) November 11, 2016
Many are calling for the U.S. Equal Employment Opportunity Commission to step in.
Grubhub CEO deserves a nice sitdown and fine from the EEOC. Will never use them again. #boycottgrubhub

David Scavo (@CaptainScavo) November 11, 2016
Good #EEOC case to threaten employees for not agreeing with his personal view. Employees should sue him. #Boycottgrubhub https://t.co/25H8PgyA5v

Kimbrough (@KimKimbrough) November 11, 2016
But will Maloney's e-mail, and follow up comments, do irreparable harm to the brand?
Rick Crandall, Professor and Chair of Management, Marketing & International Business at the University of North Carolina, Pembroke says he believes the CEO's comment won't hurt Grubhub and believes the e-mails message of inclusion for all will resonate with both employees and consumers in the long run.
"It is really not an anti-Trump statement, but a pro-diversity statement. CEOs make key statements like this when they are trying to promote a certain organizational culture, sometimes called corporate culture," Crandall tells FoxNews.com.
"In context, he [Maloney] is supporting the corporate culture that already exists at Grubhub. The election just happens to be a handy prop. His statement about offering a resignation is to be taken with a grain of salt."
Plus, Maloney isn't the only CEO in the startup world bringing politics into the office after Tuesday's election. On Wednesday, Apple CEO Tim Cook sent an email to employees urging unity following Trump's victory. And Marco Zappacosta, the CEO of the odd jobs and services site Thumbtack, sent a note to employees reassuring them that the company would continue to be inclusive.
Political scientists will study this election for a long time to come, said Zappacosta, but there is no doubt that yesterdays outcome highlighted that there are many people across the political spectrum who feel like the hopes and dreams they hold most dear are slipping out of reach.
BEN & JERRYS DECLARE SUPPORT FOR BLACK LIVES MATTER, CALLS FOR ICE CREAM BOYCOTT ENSUE
Ben & Jerry's took a slightly different tack, penning an open letter to the President-elect, asking for an end to Trump's divisive rhetoric and calling on the businessman to listen to all voices during his upcoming term.
"During your campaign, you gave voice to many Americans who feel left out and marginalized, and today we challenge you to hear the voices of all Americansregardless of race or gender or religion or sexual orientation or economic statuswho are fighting for a country built on justice and equity. These are things we all want. And so, we hope these are the things you also want," said the ice cream company.
On Thursday, Maloney told Fox News that he was not "embarrassed" by the note and many employees had thanked him for the e-mail.
Chicago-based Grubhub Inc, which owns online ordering platforms Grubhub and Seamless, says it serves an average of 267,500 users daily across 1,100 U.S. cities.
Read more: http://www.foxnews.com/leisure/2016/11/11/trump-supporters-vow-never-to-use-grubhub-after-ceo-memo-goes-viral/